Press Releases
C-nario and Christie Join forces to Showcase Innovative Digital Signage Technology at Integrated Systems Europe 2010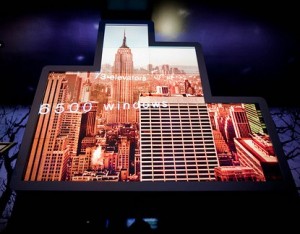 photo  from Dailydooh

C-nario, a global provider of digital signage software solutions, and Christie, global leader in visual for business, entertainment and industry, announced a strategic marketing alliance to showcase unique and exciting digital signage solutions, based on C-nario's digital signage platform and Christie's new MicroTiles digital display technology.
Christie MicroTiles are modular digital display tiles that can be stacked and clustered like building blocks to create display walls of any shape or scale, using an entirely new, advanced optical design that produces unparalleled levels of brightness, contrast and color reproduction.
C-nario's platform was demonstrated at ISE on Christie's SkyScraper, an irregular shape display wall, consisting of 14 MicroTiles. The content included wayfinding in New York City, including various videos and stills images of New York.
More about C-nario here
More about Christie's MicroTiles here